Client Aim is to design a traditional Zen garden along all its elements
Rocks, Gravel, Screening, Statuary, Pathway, Seating, Water, Lighting, Plants.
Landscape Design by ArchitectureDesigning.com
Backyard Design Visualization :
Software : 3ds max + Vary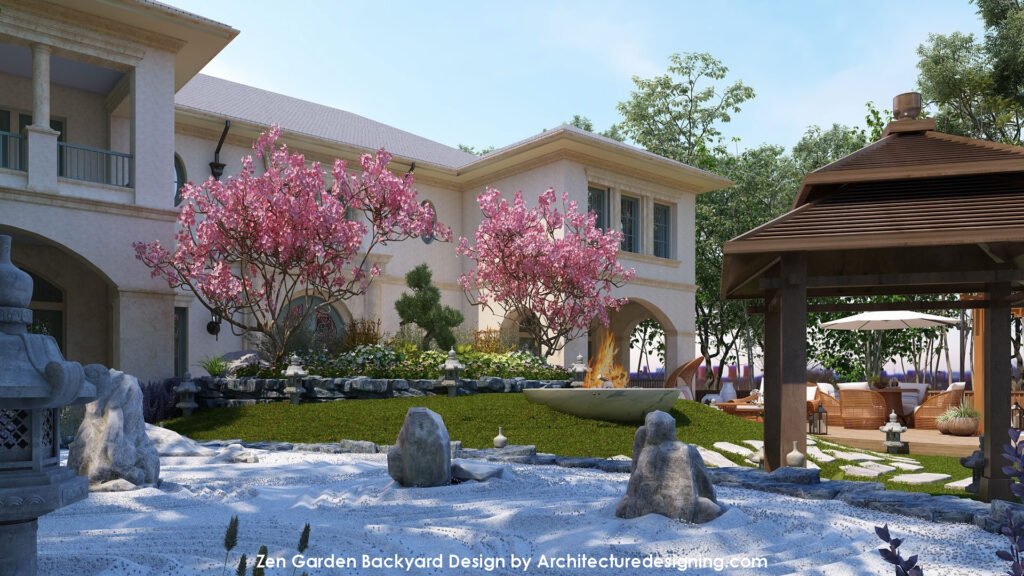 ---
What exactly is a Zen garden?
While there is no precise definition, traditionally we think of the Zen garden as a spare, somewhat abstract arrangement of rocks, gravel, and minimal greenery, meant to embody serenity and inspire reflection. These gardens are an embodiment of the philosophy and practice of Zen Buddhism.
What does a Zen garden symbolize?
It is a way of life and is associated with stress reduction. It is supposed to evoke feelings of tranquility, calmness and peace. It has mental as well as psychological health benefits," says Manita Bajaj, CEO, Sattva Life. Zen gardens use rocks and gravel or sand to recreate the essence of nature
What is a Zen garden good for?
These tiny versions are thought to help increase mindfulness and meditation. It's believed that raking the sand of these desk zen gardens and creating swirling patterns help calm your mind. While we can't say conclusively that these mini gardens relieve stress for everyone, we can see why they're such a popular option.
What should be in a Zen garden?
Sand or Gravel. Crushed granite, fine gravel or small pebbles are spread across the flat surface of a Zen garden. …
Stone Forms. …
Purposeful Arrangement of Rocks. …
Plants. …
Enclosure. …
Human-Made Elements.
What do Zen stones represent?
The symbolism of the stones in a zen garden is one of the most important design elements. Upright or vertical stones can be used to represent trees, while flat, horizontal stones represent water. Arching stones represent fire. Try different layouts to see what natural elements the design calls to mind.
What kind of rock is used in a Zen garden?
Fine gravel is used in Zen Gardens, rather than sand, because it is less disturbed by rain and wind. The act of raking the sand into a pattern representing waves or rippling water invites peaceful meditation as well as aesthetic function.
Are Zen gardens Japanese or Chinese?
Zen rock gardens, or karesansui (translated as "dry-mountain-water"), originated in medieval Japan and are renowned for their simplicity and serenity.
Where do you place a Zen garden?
Consider putting your garden in an area you can see from inside your home. Choose a flat site that gets sun or shade, depending on the kind of plants you want to grow. Keep in mind that traditional Zen gardens don't use many plants. Level the ground for your garden with a rake and remove stones, roots or other debris.
---
Call us today to schedule your consultation appointment to learn how we can help you create the Zen Garden Design of your dreams. That is the next step to revamping your Space so you can start enjoying your Garden much more than you ever have before.
♥ Facebook https://www.facebook.com/Editedart
♥ Instagram https://www.instagram.com/m.muhyuddin
♥ Portfolio https://www.behance.net/muhyuddin
♥ Pinterest https://www.pinterest.com/mmuhyuddin
♥ YouTube https://www.youtube.com/c/ArMuhyuddin
♥ Mail ID [email protected]
---
Related Hash tag :
garden, zen garden, garden design, garden design ideas for backyards, easy zen garden design, ideas for zen garden design, zen garden designs for small spaces, backyard, backyard garden design, zen garden design, zen garden ideas for backyard, zen dry garden design, garden design ideas, japanese garden design, garden ideas, backyard design, garden designs for small gardens, diy zen garden, zen garden ideas, japanese garden, garden backyard, backyard design ideas
---
---