Client Aim is to design a roof garden with outdoor sitting area.
Landscape Design by ArchitectureDesigning.com
3D Visualization :
Software : 3ds max + Corona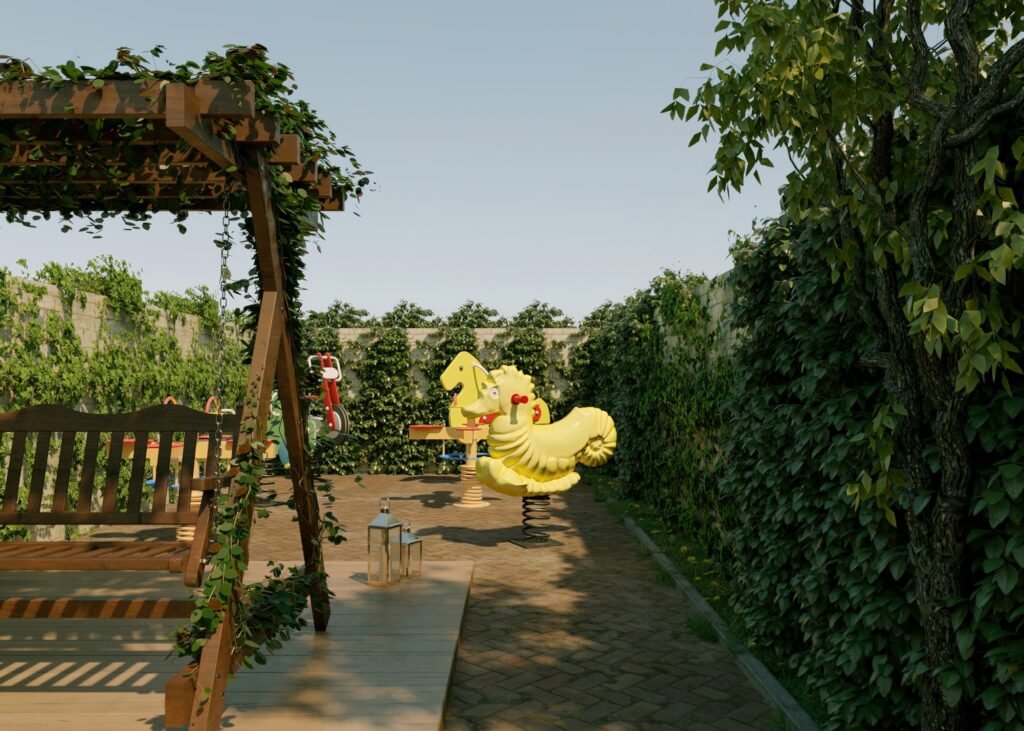 ---
How do you build a rooftop garden?
You can start with planting in simple containers – big & small, build raised beds, or cover your terrace with proper soil beds like traditional gardens. If you choose to build a fully planted green roof then you need to prepare your rooftop to prevent any potential damage to the building
What is a garden on a rooftop called?
A roof garden is a garden on the roof of a building. … The practice of cultivating food on the rooftop of buildings is sometimes referred to as rooftop farming. Rooftop farming is usually done using green roof, hydroponics, aeroponics or air-dynaponics systems or container gardens.
Are rooftop gardens safe?
The structure and weight of a roof garden can cause problems for the overall building. … Most building roofs will require proper reinforcement before a roof garden can be grown safely. High roof gardens may have problems with high winds damaging plants and young seedlings.
What are some factors that should be considered when designing a rooftop garden?
They make use of unused or underused space.
A garden beautifies an empty space.
They can provide privacy.
They can be extremely environmentally friendly.
There is usually good sun exposure.
No deer, rabbits, or other non-flying pests to worry about.
Are roof gardens expensive?
Extensive roof gardens are lighter, cheaper and shallower. Intensive gardens are heavier and more expensive. … The EPA estimates that the cost of installing a green roof starts at around $10 per square foot for simpler extensive roofing, and $25 per square foot for intensive roofs
Why are rooftop gardens good?
Rooftop gardens, also called living roofs or green roofs, have many advantages, including providing more space for agriculture, adding beauty to the cityscape and increasing air quality. During photosynthesis, plants remove carbon dioxide from the air and release oxygen that we need to breathe
What are the disadvantages of green roofs?
A greater expense than traditional roofs. Unfortunately for green roofs, they do tend to be slightly more expensive than the traditional option. …
An increase in weight load. …
Require extra maintenance.
What is balcony garden?
A balcony garden is a garden created, typically in an urban apartment with limited space. A balcony garden is created with the choices of plants and other aesthetic elements to suit space and light constraints so the garden thrives. … We have 11 pre-set balcony designs to suit every balcony.
---
Call us today to schedule your consultation appointment to learn how we can help you create the backyard of your dreams. That is the next step to revamping your dreary backyard so you can start enjoying your home much more than you ever have before.
♥ Facebook https://www.facebook.com/Editedart
♥ Instagram https://www.instagram.com/m.muhyuddin
♥ Portfolio https://www.behance.net/muhyuddin
♥ Pinterest https://www.pinterest.com/mmuhyuddin
♥ YouTube https://www.youtube.com/c/ArMuhyuddin
♥ Mail ID [email protected]
---
Related Hash tags :

rooftop garden design ideas, rooftop terrace garden design ideas, rooftop garden, rooftop terrace design, rooftop terrace garden ideas, garden, rooftop garden design, garden design, rooftop vegetable garden design ideas, modern rooftop terrace design decor ideas 2020, living big in a tiny house, house rooftop garden ideas, rooftop garden ideas for small space, modern terrace interior design ideas, making of terrace garden, simple rooftop garden ideas, rooftop terrace

---