Client Aim is to design a swimming pool area with some outdoor sitting area including fireplace.
Landscape Design by ArchitectureDesigning.com
3D RENDERING :
Software : 3ds max + Corona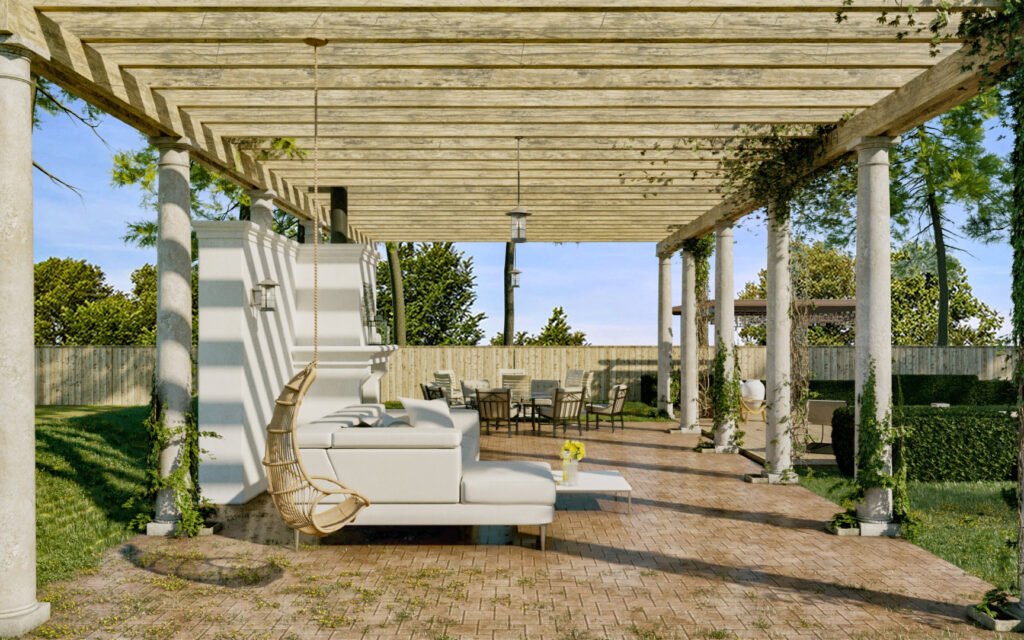 DESIGN TIPS AND CONSIDERATIONS FOR YOUR NEW SWIMMING POOL
When designing your backyard swimming pool, there are so many options nowadays, and our professionals will help you sift through to find the best one for your outdoor space.
DO YOU WANT TO HIRE A "LANDSCAPE ARCHITECT" OR A POOL CONTRACTOR?
You can start with either a landscape architect or a pool contractor to design and implement your backyard swimming pool landscape ideas. We have professionals on our staff who are well trained and experienced to deliver a wide range of custom ideas. We have before and after pictures to prove it! Although there are very talented pool contractors out there, we believe working with a landscape architect will allow you to consider both the pool and all the surrounding features at one time, leaving no stone unturned.
DO YOU WANT A CUSTOM-SHAPE SWIMMING POOL (I.E. KIDNEY-SHAPED POOL, OVAL, ETC)?
Do you want a custom formal pool or a unique shape? Some people choose to go the unique route to bring some character and custom design into their backyard space. If you are interested in a custom pool, we can show you examples of different pool shapes to choose the best one for you.
Pool shapes can include: oval, kidney-shaped, circular, curvilinear, rectangle, and many more. The rectangle shape is a common, simple one. You'll also want to determine the maintenance required for each type of pool.
WHAT TYPE OF POOL PAVING MATERIAL WILL YOU USE AROUND THE POOL AREA?
One thing you'll want to decide, and we can help you with this decision, is the type of paving material to use in the area surrounding the pool. If you have young children or elderly folks coming to visit, you may want to use a slip-resistant paving material for the areas that people will walk on with wet feet.
Another consideration is the pool deck temperature and the feel while stepping. The various colors and textures of material, as it relates to sun and heat, make a big difference. Pool areas are a barefoot environment and a pool deck material selection is key to enjoy the outdoor experience.
There are many things to take into consideration when designing your pool area, and we can help with all of it!
SAFETY AND POOL FENCING?
This is something important to keep in mind. A lot of yards have some form of fencing around the perimeter, but the type and location are key.
Pool fencing is a great safety feature and most often varies with requirements based on your city location. Let us help you figure out the best plan for your yard.
DO YOU WANT ANY CUSTOM CARPENTRY PIECES FOR YOUR POOL AREA?
Custom carpentry for your outdoor space can surely provide that wow factor people love. A beautiful, custom-built pergola, for instance, will add character to your swimming pool landscaping ideas.
We build artistically-defined custom carpentry for our customers all of the time. You can see some pictures in our photo gallery on our website!
WHAT CAN OUTSIDE LANDSCAPE GROUP DO FOR YOU? WHAT IS YOUR NEXT STEP?
If you love any of these 5 creative ideas, we can surely make them happen. If you are interested in learning more about everything we have to offer, give us a call.
---
Call us today to schedule your consultation appointment to learn how we can help you create the backyard of your dreams. That is the next step to revamping your dreary backyard so you can start enjoying your home much more than you ever have before.
♥ Facebook https://www.facebook.com/Editedart
♥ Instagram https://www.instagram.com/m.muhyuddin
♥ Portfolio https://www.behance.net/muhyuddin
♥ Pinterest https://www.pinterest.com/mmuhyuddin
♥ YouTube https://www.youtube.com/c/ArMuhyuddin
♥ Mail ID [email protected]
---
Related hash tags :
swimming pool, swimming pool design, pool design, swimming pool designs, swimming pool ideas, pool design ideas